TRACECA – Restoration of the Historic Silk Road
Owing to efforts of Heydar Aliyev in Azerbaijan there was held international forum for restoring and developing of Great Silk route, in which representatives of 42 countries of the world took participation, among whom 8 were represented by presidents. As H. Aliyev noticed at this forum on September, 1998: "Baku summit will play its historical role in decision of co-operation, provision with peace, prosperity in every country and all Eurasian space".

The main purposes of developing of Great Silk Route are expressed in the following:

· Developing of trade-economic relations of the regional countries;
· Developing of transport connections of international transportation of trucks and passengers;
· Creation of propitious conditions for transit transportation;
· Acceleration of delivery terms and saving of transported truck;
· Harmonization of transport policy;
· Privileges on tariffs on transportation and collection of taxes;
· Coordination of relationships between different fields of transport;
· Tariff policy on international and internal tariffs on truck and passenger transportation;
· Development of the programs of coordinated actions for organization of multi-modal (combined) transportation.

It must be noticed that geographic situation of Azerbaijan and its role in Great Silk route are one of the main (central), if take into consideration the fact that there are well developed all kinds of transports and main roads (air, sea and automobile) in the republic.
TRACECA-Restoration of the Historic Silk Route Conference, 8-9 September 1998, Baku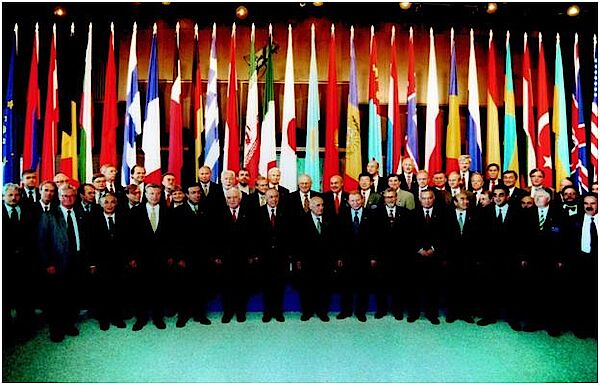 TRACECA Map (transport corridor Europe-the Caucasus- Asia)