TRACECA ON THE ROAD TOWARDS STRENGTHENING COOPERATION AMONG THE BLACK SEA AND THE BALTIC SEA REGIONS
12.07.2013
On 8 July 2013 in Odessa, Ukraine there was held International Conference-Presentation "Practical Realization of the Transport Corridors TRACECA and "The Baltic – the Black Sea".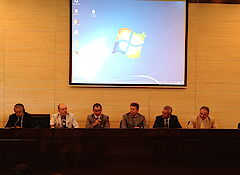 The recent meeting determined the principles of further development of transport systems in the Black Sea region in view of its specifics – the geographic situation on the crossing of transnational flows, the developed infrastructure of maritime, river and land transport.
The Conference discussed the issues of further development of international cargo traffic in the Black Sea region being the connecting link between Europe and Asia, as well as - transport systems as an integral part of the Pan-European Transport Network.
Taking into account that the TRACECA transport corridor (Europe-the Caucasus-Asia) is the multimodal system of the land and sea routes within the transport networks through the territories of the countries rich in natural and energy resources, the promotion of connections between the Black and the Baltic sea routes seems quite perspective for further economic development of the countries in the region.
During the Conference there were presented: joint logistic project of ferry operators DFDS A/S (Danemark) – Ukrferry (Ukraine), operational capacities of the ferry terminal of Ilichevsk Sea Trade Port, road-railway ferry "VILNIUS SEAWAYS".
The participants noted that concerted efforts within the framework of the Conference, as well as – other activities regarding the expansion of cooperation in the regions of the Black Sea and the Baltic Sea are of great interest in the context of achieving and consolidating sustainable economic and social development.
It is noteworthy that the organizers of the event were Odessa Maritime State Administration, National Secretariat of TRACECA in Ukraine and Shipping company "Ukrferry".
Permanent Secretaritat of the IGC TRACECA