Implementation of infrastructure investment projects and diversification of schemes and sources of finance are on top of discussion of UN OHRLLS
12.10.2017
On 4-5 October 2017, in New York, the Expert Group Meeting on Financing Infrastructure Development for Enhanced Integration of LLDCs into Global Trade was held under the direction of Ms. Fekitamoeloa Katoa Utoikamanu, Under Secretary General and High Representative for the Least Developed Countries, Landlocked Developing Countries and Small Island Developing States (UN OHRLLS).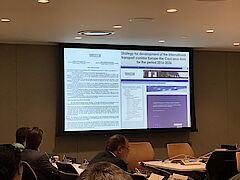 The main objective of the Meeting is to review the possibility of enhancement the resource mobilization from the key sources of financing for infrastructure development and maintenance for the LLDCs and provide recommendations that can advance the implementation of the Vienna Programme of Action and support the achievement of the Sustainable Development Goals by the LLDCs.

It should be noted that the Vienna Programme of Actions (VPoA) for LLDCs for the decade 2014-2024 underscores the importance of partnerships between LLDCs and transit countries for the improvement and regular maintenance of their transport, energy and ICT infrastructure and stresses the importance of promoting enabling legal environments and institutional arrangements.

As the official invitee by Ms. Utoikamanu and panelist of the meeting, Mr. Ciopraga, TRACECA Secretary General actively joined the mentioned Expert Group Meeting and shared with the participants of the Meeting about the ongoing activity of TRACECA member-states and relevant measures taken for development of TRACECA corridor in the region.

Mr. Ciorpaga stated that with the view of promoting the attractiveness of the TRACECA corridor the countries take active measures to eliminate non-physical barriers: these are measures on harmonization and simplification of regulatory standards, facilitation of border crossing procedures, use of advanced transport and information technologies and other factors that are able to guarantee uninterrupted transport communication in the TRACECA region.

Taking into consideration the fact that 7 out of 13 TRACECA member states are landlocked countries, the improvement of the transit system and transport infrastructure, which plays the most important role are decisive for the TRACECA region.

During the session of the meeting, interactive discussion touched such key issues as regional perspectives for infrastructure development, private sector and public private partnerships, enhancing the capacity of the LLDCs to access international and regional funds and other innovative sources of financing, domestic funding for infrastructure development - government spending, cost recovery and management of public utilities, domestic capital markets and etc.

In particular, there were pointed out measures and suggested recommendations regarding financing infrastructure development and meeting the special needs for the benefit the LLDCs countries within new global framework.

The participants of the discussion underlined that combined efforts of the involved countries as well as mobilization, assistance and support by the international community will ensure success in the implementation of the assigned tasks.


Permanent Secretaritat of the IGC TRACECA