New wave of cooperation development of TRACECA and Turkmenistan
26.07.2017
On 25 July 2017 upon official invitation of Mr. Ciopraga, TRACECA Secretary General, H.E. Mr. Mekan Ishanguliyev, Ambassador Extraordinary and Plenipotentiary of Turkmenistan to the Republic of Azerbaijan visited TRACECA Headquarter.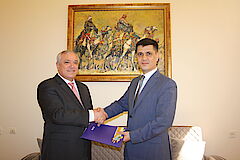 H.E. Mr. Ishanguliyev and Mr. Ciopraga discussed the key issues of the ensuring the development of transport system in Central Asia region - the role of international conventions in promoting and ensuring the safety of international trade and road transport, the impact of harmonized legal framework on traffic flows, identification of unused transport capacity as well as factors affecting the competitiveness of merchandising and transport corridors.
A special emphasis was placed on the issues related to the participation of the Republic of Turkmenistan in TRACECA programme. Mr. Ishanguliyev added that since the beginning, Turkmenistan is an active member of TRACECA Programme.

Mr. Ciopraga and H.E. Mr. Ishanguliyev mentioned that the accession of Turkmenistan to the Basic Multilateral Agreement (MLA) TRACECA will have direct contribution to the effective development of the whole logistics chain of the corridor.

Having all necessary resources and potential of international standard Mr. Ciopraga and H.E. Mr. Ishanguliyev stated that Turkmenistan strengthens its role as an important "intersection" and route of goods movement along the Great Silk Road.

At the same time, the discussion on the accession of Turkmenistan to the MLA is still ongoing.
Permanent Secretaritat of the IGC TRACECA