On 26 October 2017, in Brussels, Mr. Ciopraga, TRACECA Secretary General and H.E. Mr. Pierre-Emmanuel Quirin, President of the Crans Montana Forum (CMF) had bilateral meeting within the Forum
30.10.2017
The main subject of the Meeting is exchange of opinions on the possible ways of expansion cooperation between TRACECA and CMF in the context of increasing the potential for economic and social development, the growth of mutual trade and tourism, the strengthening of peace and stability in the region.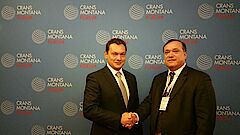 Mr. Ciopraga and H.E. Mr. Quirin discussed the current situation along the corridor, transport, infrastructure and investment opportunities of the member-countries which is important for assessment dynamic development vectors within East and West in the region.

Mr. Ciorpaga stressed that current Strategy for the development of TRACECA for 2016-2026, determined that the key aspects in the future are strengthening transport safety and protecting the environment of the TRACECA corridor.

Within the discussion, Mr. Ciopraga and Mr. Quirin sounded that nowadays economic alternative bridging, from East to West, the new territories of development, growth represents an exceptional opportunity for the World, expansion of cooperation between the TRACECA countries and the countries of the Southern Mediterranean and the Middle East is of common interest for both TRACECA and CMF.

It has been mentioned that continuation and enlargement of active and mutually beneficial cooperation among all concerned parties within the Crans Montana Forum is very important for the purpose of developing investment, economic and trade potential of the Eurasian region.
Permanent Secretaritat of the IGC TRACECA