On 26th January 2017, upon official invitation Mr. Ciopraga TRACECA Secretary General participated in the reception of H.E. Mr. Sanjay Rana, Indian Ambassador in Azerbaijan
31.01.2017
The Embassy of India in Azerbaijan hosted a reception on the country`s Republic Day on January 26.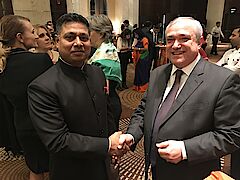 Governmental officials, ambassadors of foreign countries, as well as public figures joined the ceremony to celebrate India with such a significant date and the country's transition toward becoming an independent republic.
H.E. Mr. Sanjay Rana, Ambassador highlighted India`s achievements in various fields, and touched upon the relations between the India and Azerbaijan and its activity in the region.
Within the reception, Mr. Ciopraga and H.E. Mr. Sanjay Rana had an opportunity to exchange opinions on the International North–South Transport Corridor as well as to discuss initiatives within International transport corridor Europe-the Caucasus-Asia (TRACECA).
Secretary General emphasized the significance of developing cooperation with regional countries, and possible with India and the extension of transport geography along the TRACECA Corridor.
H.E. Mr. Sanjay Rana, expressed his interest in cooperation within the initiatives on regional and interregional development of TRACECA.
Permanent Secretaritat of the IGC TRACECA