TRACECA and OTIF: ensuring the continuity of global cargo supply chains through harmonizing legislation and introducing instrument for the organization of transportation in the region
19.07.2022
On July 18, 2022, within the framework of the meeting of the Secretary General of the PS IGC TRACECA, Mr. A.A. Assavbayev and the Secretary General of the OTIF, Mr. Wolfgang Küpper, an exchange of views took place on the latest developments in international rail transport procedures, legal and technical requirements in the organization of transportation, convergence of national legislations, accession to international conventions on rail transport, and also, various aspects of the application of a common CIM/SMGS consignment note.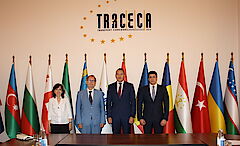 The participants of the meeting noted that these issues are also widely discussed and are within the competence of transport departments, customs, railway organizations of the TRACECA and OTIF regions. The experience of implementation, restrictions in сertain countries, use of the consignment note in customs transit procedures, in multimodal transportation, as well as discussion of ways to solve the identified problems, etc. were included in the Agenda of the discussions.

During the meeting, the Secretary General noted the multimodality of the TRACECA corridor, and the existence of various legal regimes in the TRACECA countries. "The application of a common CIM/SMGS consignment note, digitalization and further practical implementation on railways are priority issues that are outlined in the Strategy and Plan of Action of the TRACECA countries," the Secretary General pointed out.

In this direction, TRACECA actively cooperates with such industry organizations as OSJD, UIC and CIT Rail, where the experience of the jointly held workshop, which served as the initial stage of discussions on the application of CIM/SMGS, is noteworthy. In addition, the positive experience in Azerbaijan, as well as the experience of Turkey, was noted. "It is planned to hold a second joint workshop related to the use of an electronic consignment note, where OTIF representatives are also invited. In this regard, the exchange of best practices with the OTIF organization is very useful," Mr. A.A. Assavbayev highlighted.

During the meeting, the importance of freight transportation from China along multimodal corridors, as well as the intensification of transportation on Baku-Tbilisi-Kars railway line was outlined. OTIF Secretary General, Mr. Küpper noted that cooperation with China is developing within the framework of the signed Memorandum of Understanding and expressed readiness to share experience with TRACECA.

The Parties agreed on the importance of initiating joint cooperation and exchange of information on the introduction of a common consignment note and simplification of transport procedures.

For reference:

OTIF is an intergovernmental organization for international rail transport. The main objective of the structure is to ensure the application of uniform rules in international passenger and freight transportation between rail transport and member-states, interstate cooperation for the development of this system.


Permanent Secretaritat of the IGC TRACECA