TRACECA attaches particular significance to the cooperation with transport industry structures that contribute to the development of the transport process along the ITC Europe-the Caucasus-Asia
18.03.2020
Cooperation, communication and operational activities with all involved and interested Parties-the path to the successful development of the TRACECA region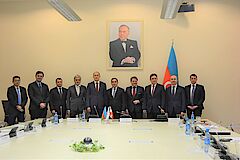 This position is consonant with the one of the main topics of the agenda of the joint Working Group (WG) meeting set up for the project "Promoting Green Ports and Connectivity in the Caspian Sea Region", implemented by the "Baku International Sea Trade Port" CJSC (Port of Baku) together with the Organization for Security and Co-operation in Europe (OSCE), on March 13, 2020, in Baku.
The WG was attended by the representatives of the Ministry of Transport, Communications and High Technologies of the Republic of Azerbaijan, the Ministry of Economy of the Republic of Azerbaijan, the Baku International Sea Trade Port CJSC, ADY Container, Alliance Logistics, the Azerbaijan Caspian Shipping Company CJSC, the State Customs Committee of the Republic of Azerbaijan, Rail Cargo Austria AG, the Embassy of the Republic of Azerbaijan in the Republic of Austria, as well as the PS IGC TRACECA.
The WG participants highlighted the importance of the Trans-Caspian International Transport Route (the Middle corridor) as a reliable alternative competitive link for goods/container transport between Europe and Asia. They expressed their joint interest in improving the attractiveness and effectiveness of the Middle corridor and, in this regard, welcomed the establishment of a joint working group to strengthen communication and cooperation among key stakeholders involved in the TITR.
The participants of the meeting agreed to make joint efforts to increase the volumes of international traffic by increasing the competitiveness and frequency of transport, reducing transit time and lowering the cost of transit.
On the outcomes of the WG meeting, a Protocol on further steps and actions was adopted.
The Protocol included agreements of the WG participants on the analysis of regional markets in Europe and Asia, sharing of best practices and experience in using the latest technologies.
An agreement was also reached on the joint development of a common digital platform for the transport of goods in the East/West direction and backwards to connect all relevant stakeholders in the supply chain.
Permanent Secretaritat of the IGC TRACECA