On 30 January, 2023, the meeting of Mr. Asset Assavbayev, Secretary General of the PS IGC TRACECA with Mr. Julius Skačkauskas, Deputy Minister of Transport and Communications of Lithuania was held
31.01.2023
The agenda of the meeting included discussions on the upcoming 16th (Anniversary) Annual Meeting of the IGC in Tbilisi (Georgia), scheduled for February 10, 2023, and within the framework of which draft documents on the main initiatives and current activities of TRACECA, including the Business Council, the TRACECA Fund, Border Crossing Hotline Concepts, Methodology for the generation of statistical data etc., will be submitted for consideration.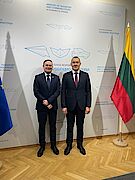 During the meeting of Mr. A. Assavbaev and Mr. J. Skačkauskas, discussions touched upon the draft Agreement on the TRACECA Unified Transit Permit. In order to further simplify the procedures for carrying out road transport under the Agreement, it is planned to replace the necessary transit permits with unified permit and carry out procedures for issuing and using electronic permits only.

In addition, the sides also exchanged views on digitalization, Mr. A. Assavbayev, TRACECA Secretary General, shared information on the Digital Concept of TRACECA, according to which technical aspects of creating an information system are being worked out, which in the future will create a regional digital ecosystem of the corridor.

The participants of the discussions furthermore noted the promising outlook and significance of the gradual process of expanding the geography of TRACECA.

In particular, the Secretary General stressed that Lithuania's entry into the ranks of full TRACECA members would allow combining the country's transport links with the infrastructure of the 13 countries of the corridor. This fact will ensure the further transportation of goods in transit to/from and transit through Lithuania to nearby countries of the European Union. This would also allow Lithuania to participate in the implementation of TRACECA initiatives and projects aimed at maximum simplification of transportation procedures.

In turn, Mr. J. Skačkauskas also mentioned that Lithuania, having access to the Baltic Sea, is a major center of cargo transportation and expressed a desire to strengthen further cooperation.

According to the Secretary General and Deputy Minister, the concerted efforts of the two sides will create a digital and competitive corridor between Asia and Europe.

For reference: Lithuania has had observer status in the IPC TRACECA since 2009.
Permanent Secretaritat of the IGC TRACECA