On April 04, 2022, representatives of the Permanent Secretariat of the IGC and the US Embassy in the Republic of Azerbaijan met at the TRACECA Headquarters
05.04.2022
The main objective of the introductory meeting was to discuss the current situation on the development of transit routes and transportation, the opportunities and priorities of the TRACECA international programme, as well as integration prospects that are strategically important for Europe-the Caucasus-Asia region.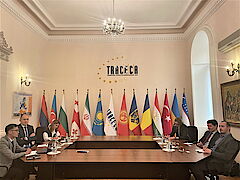 Within exchange of views, the participants of the meeting discussed the further implementation and possibilities of financing infrastructural and new investment projects in the MLA TRACECA member states.
During the meeting, special attention was paid to such priority areas as containerization, digitalization of the corridor, including the introduction of electronic transport documents, improvement of border crossing procedures, determination of competitive tariffs and preferential conditions, harmonization of legislation, and others.

"In modern world conditions, the transport sector of Europe-the Caucasus-Asia corridor needs support. Taking into account the developed projects, the active use of the corridor's capabilities and its potential to the full is one of the primary tasks," – Mr. A.A. Assavbayev, Secretary General emphasized.

The Secretary General also shared his vision regarding the need to attract additional cargo to the TRACECA corridor routes, organization of regular container services, establishment of tariff conditions in Europe-the Caucasus-Asia region, and about the effect of the transport corridors' development in Central Asia as a whole.

On the outcome of the meeting, the Parties confirmed their readiness for assistance and cooperation after a detailed acquaintance with the current activities and status of the implementation of the TRACECA initiatives in the region.



Permanent Secretaritat of the IGC TRACECA