Seminar on the prevention of marine pollution by oil and other substances (MARPOL Convention)
24.07.2015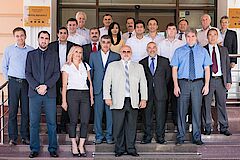 The European Union (EU) funded TRACECA Maritime Safety and Security II Project within its activities 4.2-4.3 organised a Seminar on the prevention of marine pollution by oil and other substances (MARPOL Convention).
This Seminar took place in Chisinau, Moldova, from Tuesday 21 July to Thursday 23 July 2015.
The objectives of the Seminar were to:
- provide information on the latest developments of the MARPOL Convention;
- demonstrate the benefits and conhesiveness of the Conention;
- encourgae ratification of Annex VI for those partners who have not yet ratified it;
- promote the effective implementation of the Convention and
- foster exchange of experiences in the region.
The Seminar was aimed at officials of the project's direct beneficiary countries involved in maritime affairs and protection of the marine environment.
TRACECA Technical Assistance Projects