TRACECA assistance in establishing a future direct feeder service on the Black Sea
10.02.2022
On February 3-4, 2022, during the visit to Romania, meetings were held with representatives of the Romanian port of NC "Administration of Seaports" S.A. Constanta, representatives of the largest group of Romanian private railway companies in South-Eastern Europe - Grampet Group, as well as the Embassy of the Republic of Kazakhstan in Romania.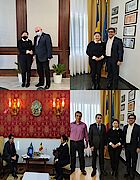 During the visit to Bucharest and Constanta, discussions were held on the development and strengthening of trade and transport connectivity in Europe and Asia in the context of the global transport system involving the Black Sea maritime section between the TRACECA countries - Romania and Georgia.

The topic of the meetings covered the exchange of views on the possibilities of the cargo base in Asia-Europe-Asia direction, especially in the countries of Southern and Eastern Europe.

The discussions also touched upon the prospects of attracting cargo from Central Asian countries and the PRC for using the transport section on the Black Sea, including constraints, joint measures and assistance from TRACECA countries to stimulate the development of this dimension, as well as the participation of transport, logistics and infrastructure companies of the public and private sectors.

It should be noted that TRACECA continues to explore new opportunities for expanding cooperation aimed at increasing the competitiveness of the routes of Europe-the Caucasus-Asia corridor.


Permanent Secretaritat of the IGC TRACECA